WELCOME TO WRIGLEYGUIDE.COM!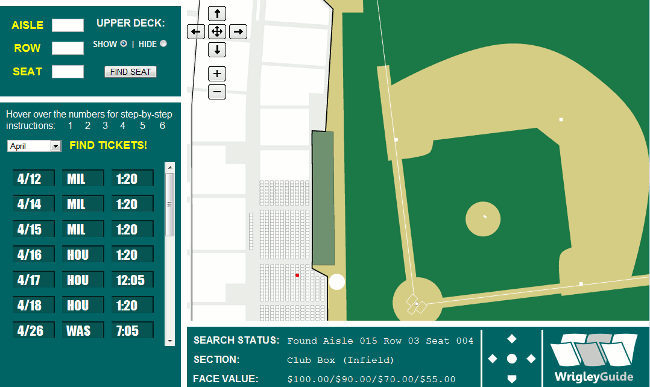 By visiting the "Seat Map" page, you are agreeing to our Terms of Use and accepting our Privacy Policy.
NOTE: For the best experience, please use Firefox, Opera, Safari or Chrome to view the Seat Map. While the Seat Map is functional in Internet Explorer, your experience may be somewhat compromised because Explorer does not support the underlying technology. WrigleyGuide.com is in beta release so please be patient (and notify us) if you encounter any issues.
We love Wrigley Field. But along with all of the great things the old ballpark has to offer, finding the seats you want can be a bit tricky. Columns, overhangs and unusual seat numbering often raise questions among those in the market for tickets. What are the chances that a metal beam will block my view (around 12%)? Can seat 8 really be next to seat 112 (in some cases, yes)? It's hard to justify paying those high ticket prices with so much uncertainty. Fear not. WrigleyGuide.com has the answers.
The main feature of WrigleyGuide.com is the Seat Map page. Using this tool, you can pinpoint the specific location of any aisle, row or seat in the stadium.* That's right, down to the seat. You'll be able to see how far the seat is from the field, if the seat is near a dreaded column, if the seat is under an overhang, and more. To make life even easier, we provide additional information about obstructions, pricing and ticket availability. Find the seats you want, avoid the seats you don't, and buy with confidence. Give it a try!
*Seats in the Mezzanine Suites are not included because they are not for sale to the general public. Batter's Eye seats and disabled seating are displayed on the map, but are not searchable. Seats in the Bleachers are general admission during the regular season and therefore are not searchable.